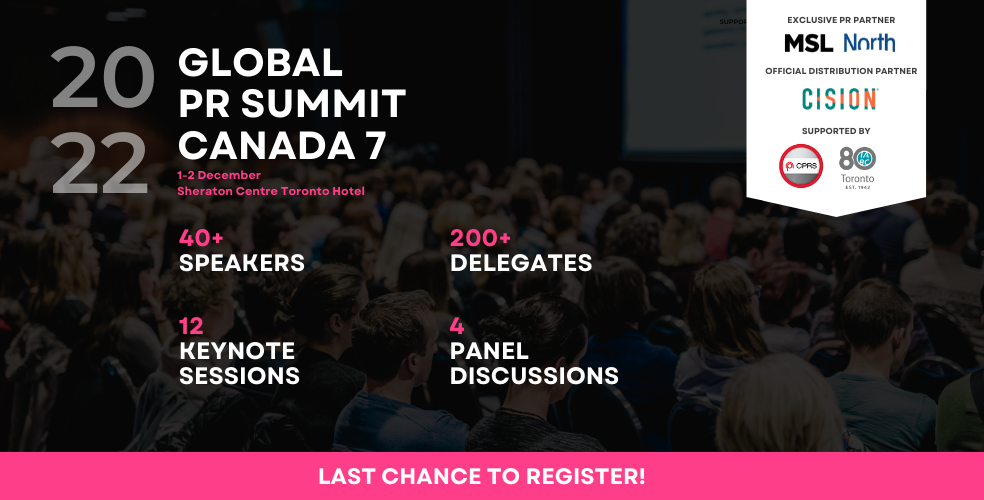 Global PR Summit Canada 7: Last Chance to Get Your Ticket!
November 18, 2022
---
Ticket prices for the Global PR Summit Canada 7, from 1-2 December in Toronto, increase for the final time tonight.
We're on track to sell out in the next 24 hours. For those interested in attending, this is the last chance to join us.
The 7th edition of the Global PR Summit Canada is supported by CPRS and IABC Toronto. The Summit includes talks by 40+ PR experts from Canada and the US, including representatives from Restaurant Brands International, Stripe, Argyle, Amazon, L'Oreal Canada, BcW Global, Equifax, University of Notre Dame, Mayo Clinic and Edelman.
The full list of speakers for the Summit is available here.
Over 180 PR professionals have already booked their tickets for the Summit, including representatives from: BMO Financial Group, CBC/Radio-Canada, Sobeys Inc., Cision Canada, Payments Canada, Publicis Canada, Pomp & Circumstance, L'Oréal Canada, City of Guelph, Halifax International Airport Authority, Prince Rupert Port Authority, Toronto Police Service, MLB Communications, University of Waterloo, General Motors, Geotab, Destination Toronto, BC Real Estate Association, SickKids Foundation, National Capital Commission, WeightWatchers, Kaiser & Partners...
The Global PR Summit Canada 7 is organized by P World with MSL North/Public Groupe as the Exclusive Event Partner and CISION as the Summit's Official Distribution Partner.
To get your tickets for the Summit click here.
---