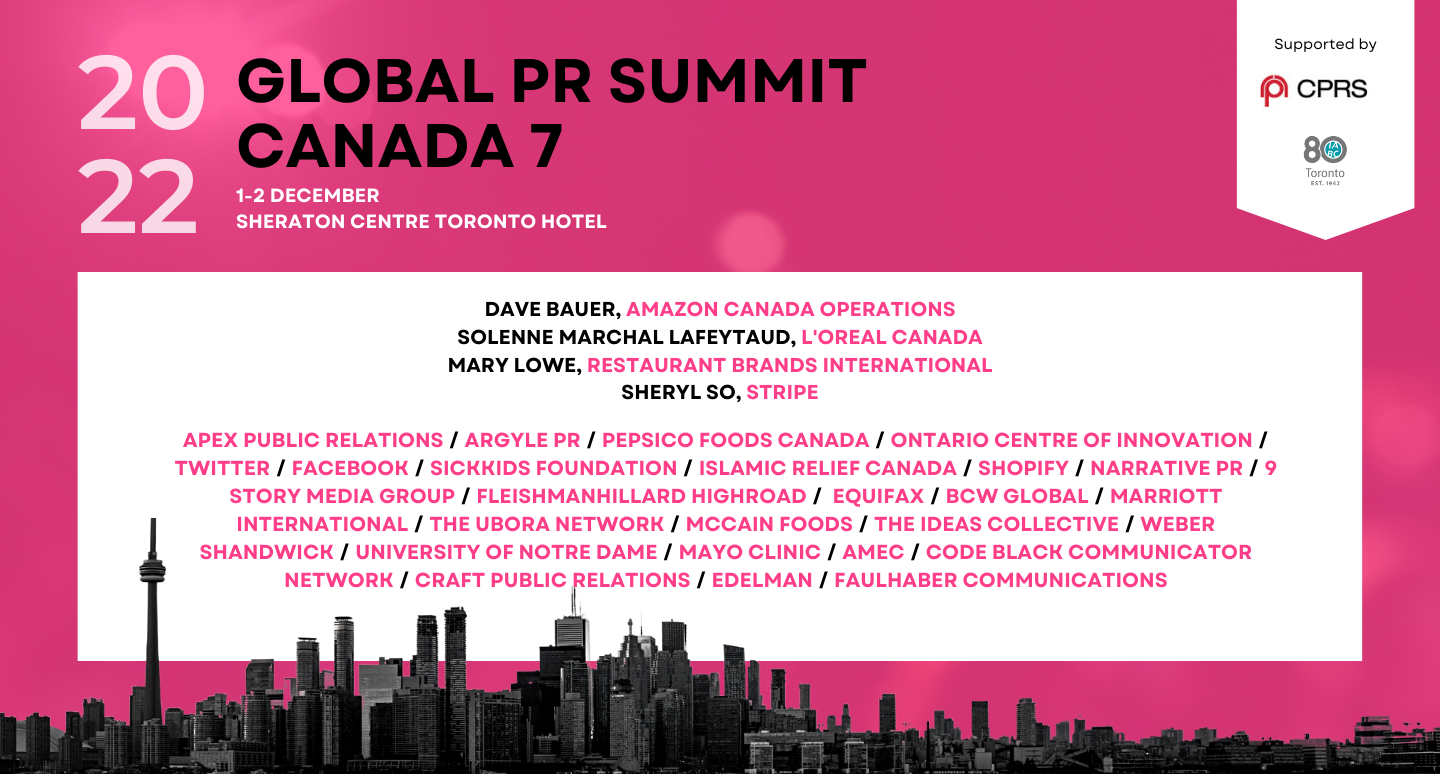 CPRS National and IABC Toronto Support the Global PR Summit Canada 7
August 08, 2022
---
P World's Global PR Summit Canada 7, scheduled to take place from 1-2 December in Toronto, is now supported by two of the largest PR associations in Canada: CPRS National (The Canadian Public Relations Society) and IABC Toronto.
Members of these two esteemed organizations can now register for the Summit with 25% exclusive discount.
With 30+ industry leading speakers, over 5 hours of engaging discussions, electrifying keynotes on the most important global PR trends and interactive networking with over 200 Canadian PR professionals, attending the Global PR Summit Canada 7 will help you gain valuable insights on the trends, challenges and opportunities in Canada's communications industry.
Speakers at the Summit include:
Vincent Power, APR, FCPRS Incoming CPRS National Board President
Dave Bauer, Head of External Communications, Amazon Canada Operations
Solenne Marchal Lafeytaud, Chief Corporate Affairs Officer, L'Oreal Canada
Jennifer Stein, Senior Vice President, APEX Public Relations
Roanne Argyle, Senior Vice President, Corporate & Public Affairs, Argyle PR
Sheri Morgan, ABC, Head of Communications, PepsiCo Foods Canada
Alicia Pereira, Director of Communications, Ontario Centre of Innovation
Sandra Chiovitti, Director of Public Relations, SickKids Foundation
Reyhana Patel, Director, Communications and Government Relations, Islamic Relief Canada
Prasanna Ranganathan, Head of Diversity and Belonging, Shopify
Renee Weekes Duncan, Communications Lead, D&I and Culture, Rogers & Co-founder of Code Black Communicator Network
Rohini Mukherji, Vice President, NARRATIVE PR
Sozan Mirawdaly, Award-Winning Journalist & Branded Content Strategist
Farrell Hall, CHRL, Chief Inclusion Officer, 9 Story Media Group
Mubashira Nusrat Farooqi, PRovoke Media's Inaugural Young Changemakers Award Recipient, Colour Me PR Podcast Host, Senior Consultant at FleishmanHillard Highroad
Shaila Manyam, Senior Vice President, Client Lead and Senior Director, Public Affairs & Crisis, BCW Global
Ashley Korte, Senior Director, Global Crisis Management, Equifax
Sarah Brown, Former Director, Corporate Media Relations, Marriott International
Mary Lowe,Vice President, Public Affairs at Restaurant Brands International
Sheryl So, Head, Product Communications, Stripe
Gail Strachan, MCM, APR, Equitable Workforce Strategy Design | Culture Disruptor | Thought Leader | Co-Founder Antiracism in PR & The Ubora Network
Victoria Gibson, Vice President, Global Communications, McCain Foods
Cam Gordon, Head of Communications, Twitter Canada
Maliha Aqeel PMP, SCMP, MC, Founder and CEO, The Ideas Collective
Leanne James, HR Lead Canada, Weber Shandwick & Board Member, CCDI
Andy Fuller, Director of Strategic Content, University of Notre Dame
Colleen Young, Community Director, Mayo Clinic Connect, Mayo Clinic
Bjorn Trowery, Consumer Communications & Brand PR, Facebook
Johna Burke, Global Managing Director, AMEC (International Association for Measurement and Evaluation of Communication)
Maxine McDonald, Vice President, Media Profile and Co-Founder & Chair, Code Black Communicator Network
Lisa Pasquin, President, Craft Public Relations
Brian Rosevear, Senior Vice President, Brand Practice, Edelman
Christine Faulhaber, Founder & CEO, Faulhaber Communications
Super early-bird discounted tickets for the Summit are available only until August 19th and can be purchased here.
---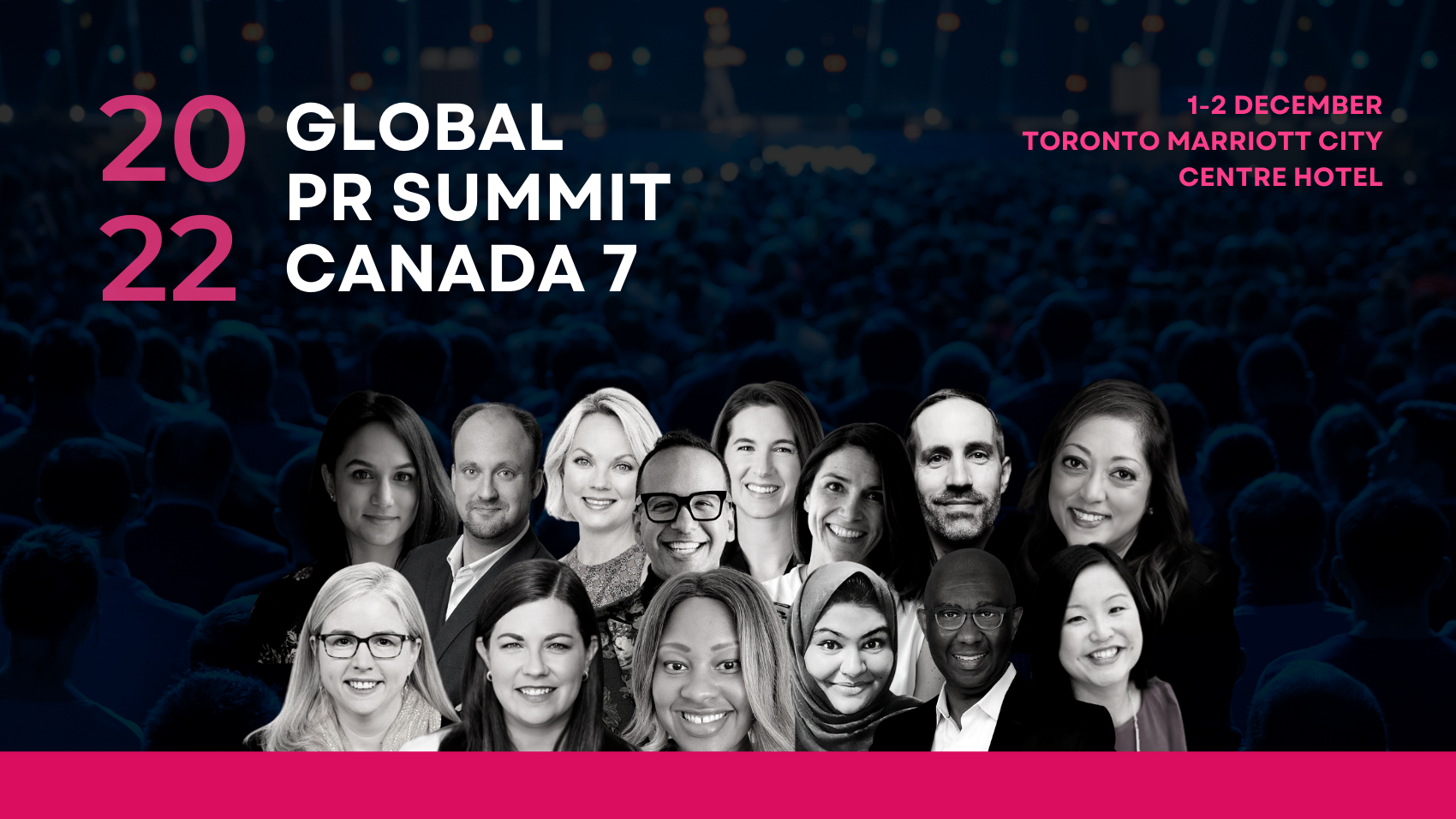 May 20, 2022