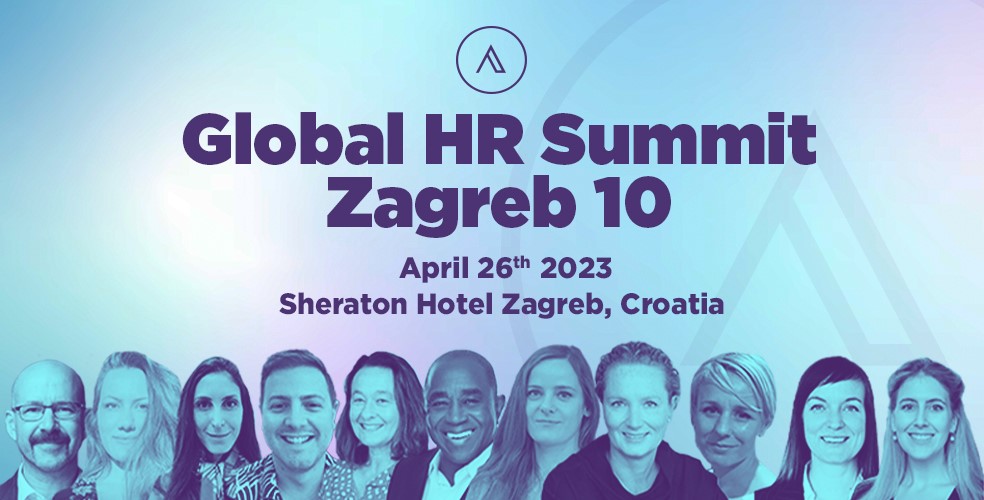 The Global HR Trends Summit celebrates its 10th anniversary in Croatia!
February 20, 2023
---
Twelve years ago, in October of 2021, we hosted the first Croatian HR Experience Summit in Zagreb. And look how far we've come!
In the past 12 years, we have organized 9 International HR Summits in Zagreb, bringing over 70 international HR keynote speakers from companies like Google, Facebook, Netflix, BBC, BAFTA, DHL, Unilever, BP, HP, Barclays, eBay, Novartis, Disney, Pirelli, Twitter, BMW, Farfetch, NBA, ING Group, Harrods, Ericsson, BT, Swarovski, Emirates NBD, Coca Cola, Maersk, Merck, Barclays, Allianz and hosting over 700 delegates from Central Eastern Europe and had a fantastic time networking, discussing HR and learning from each other.
To honor the occasion, for the 10th edition of the Global HR Trends Summit, happening at the Sheraton Zagreb, on April 26th, we have planned an incredible conference featuring 11 international HR leaders discussing the latest in HR:
Ambros Scope, Head of Leadership and Future of Work at Zurich Insurance, will share their New Leadership Expectations Framework
Kerry Isherwood, Senior Manager for Leadership at Virgin Atlantic, will speak about Enhancing Performance Through Learning
Liz Rider, the former Global Head of Leadership & Culture at Volvo, will talk about the importance of implementing Empathy Leadership in your organization
Josh Novelle, Senior Director of People Experience and Insights at Warner Music Group, will share a case study on putting Employee Experience at the Center of Your Technology Strategy
Stefanie Wittenbecher, Head of Learning & Development DACH at DHL Freight, will talk about creating a successful Internal Coaching Pool
Diana Fayad, Global Executive, Total Rewards at GE, talks about how to develop Future-Focused Rewards In Your Organization
Michaela Schütt, SVP, Head of Global Talent Acquisition Ecosystem at Siemens, will share their best practices in creating a better Candidate Experience
Zoom's Global Talent Engagement Specialist, Ays Schmidt, will talk about HR Innovation and the new ways of communication affecting companies worldwide
Sara Milesson, VP of HR at Trelleborg Industrial Solutions, will share best practices for connecting the People Strategy to the Bussiness Strategy
Charlotte Thomassen-Kinsey, Global HR Director Digital & Technology, Pandora, will share how Pandora Is Approaching The Future Of Work
Ron Thomas, International Country Manager: Middle East, Africa and Asia Pacific Region, HUMAN CAPITAL INSTITUTE (HCI) will talk about the Future of HR
Join us at the Global HR Trends Summit to gain insights from industry leaders, craft innovative HR solutions, improve your employee experience, and maximize your organization's potential!
You can register for the Global HR Trends Summit Zagreb 10 here.
---