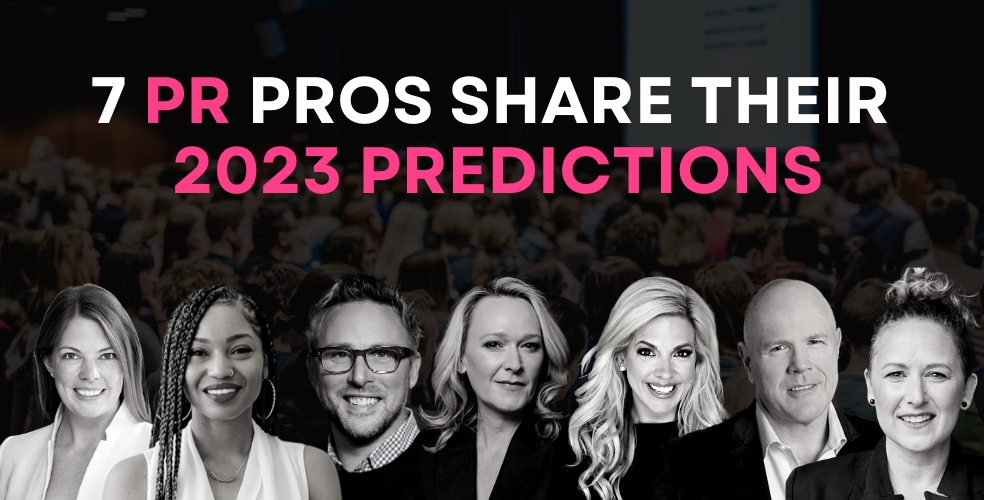 7 PR Pros Share Their 2023 Predictions
December 16, 2022
---
by Kosta Petrov, Managing Director, P World
You would expect PR professionals to have a more relaxed year in 2023 after three years of COVID and societal turmoil. That would be nice, but sadly, it is not the case. A looming recession, cost cutting left, right, and center, and deep societal polarization seem to suggest that these past three years were merely a prelude to the year 2023. Despite the fact that PR professionals have adapted very quickly to this new age of uncertainty, and they have finally cemented their position as guardians of their organization's reputation, preparation is vital for what is going to be an extremely challenging year. In light of these factors, at the 7th edition of Global PR Summit Canada in Toronto, we asked seven PR professionals what their PR predictions for 2023 are. Whether it is the end of brand neutrality, the changing media landscape, big data, or content, sustainability, and AI, here are the trends that will shape the Canadian PR industry in the coming year.
Jay Webster, Chief Product & Technology Officer at Cision
Choosing which social media platform to use for your content may prove to be an adventure in 2023.
According to Jay, TikTok's popularity will peak in 2023. "Brands now have the tools in place to enter the viral social platform, but as they go all in it could mark the peak." What impact does this have on PR professionals seeking to create engaging content? What platform should you use? Jay believes that "Twitter's future relies heavily on Musk's next move and Instagram may be the platform with real corporate staying power".
As for challenges there are plenty. " It's the beginning of the end of brand neutrality as two major macro challenges are coming for communicators; the first a widely-expected recession and the second the countdown to the general election with midterms in the rearview mirror. This is a challenge and an opportunity for companies to communicate effectively", Jay explains.
In terms of the top skill you need to succeed in 2023, Jay says it is Artificial Intelligence. "Artificial Intelligence extends beyond just SEO and opens the door to data-driven narratives and full-on content generation. While it will be a hybrid between humans and machines as AI enters the comms lifecycle, it will push automation closer to the finished product".
Maxine McDonald, Vice President at MSL Global
Microtrends will dominate 2023. According to Maxine, seasonal trends and topics will take a backseat to short-lived, viral trends, especially in the lifestyle space, but also across all categories. She believes that pace will be the biggest challenge in 2023. "The world is moving more quickly than ever. The lifespan of a trend is half or a quarter of what it was. Brands, PR pros need to be agile in order to capture the attention of their target audience. The ability to be nimble is an opportunity for small brands. Process will be a challenge for big brands trying to keep up", according to her.
As for the PR skills you need for 2023, Maxine believes that, for agencies "deep integration with brand clients will be necessary to shorten the feedback loop and successfully tap into microtrends". As we move forward into 2023, earned media will no longer be the benchmark for success, whereas the contextualization of metrics will take the lead. "The ability to successfully navigate issues or tap into trends will rely on a rock-solid response process", Maxine concludes.
Brian Rosevear, Senior Communications Consultant
According to Brian, 2023 will be all about quality over quantity. "In 2023, PR success will depend on niche audience engagement. We will see a return to experience as a way of driving word of mouth, but reimagined for the digital age." In addition, Brian predicts that 2023 will witness an increase in influencer community engagement and highly targeted earned placements.
In 2023, Brian believes the greatest PR challenge will be reaching audiences effectively through earned and social media. " As technology continues to evolve (ie, TikTok to Be Real) and existing platforms continue to evolve (Meta, Snap, Facebook), it is becoming increasingly difficult to reach audiences."
Both philosophically and functionally, the question of whether we should pay to play continues to be a significant challenge. "Earned media is in tatters and the fragments are tearing apart as well. As a result of the pandemic, news consumption has fallen. Consumption in today's world is dictated by algorithms." Brian asserts that creating the right strategy in this kind of environment can be very challenging.
What skills will you need to survive the year 2023? In Brian's view, it is all about data comprehension. PR professionals must be able to interpret, analyze, and apply data to their practice.
Jessica Savage, CEO at (MSL/North) Publicis Groupe
Jessica believes that 2023 will be a year of creating powerful human connections. " Say goodbye to mass pitching, and find media opportunities that deliver quality over quantity for brands to truly connect with consumers". Continuing to stand for kindness, common sense, and accountability for their own brand as well as the industry in 2023, she asserts, will be the focus of 2023.
In 2023, the biggest PR challenge will be meeting everyone's expectations. "For brands, this means acting fast and with authenticity and accountability; working with partners and influencers and being clear on shared values; and engaging in social issues in a meaningful and sustained manner. The focus for agencies will be on recognizing performance as well as ensuring equity with talent and opportunity; investing in talent and training to develop leaders; and aligning the pace of the industry with the needs of the people".
In terms of PR skills required to navigate 2023, Jessica believes that it all comes back to a return to strategic "small talk". She suggests that PR professionals should begin doing more PR within their industry as well. "As we see a decline in talent entering the PR industry, spreading the word regarding the creative and strategic thinking PR professionals do on a daily basis would be invaluable." She also believes that 2023 will be a year of investing in relationships and remaining curious. "We haven't done it all before," she concludes.
Amanda Alvaro, President and Co-Founder at Pomp & Circumstance
Amanda believes that digital media and content creation will take center stage in 2023. "The audience will undergo a significant shift with a heightened emphasis on Gen Z as the next generation of consumers." Amanda also predicts an increase in user-generated content in 2023, along with a shift towards authentic content as opposed to content that is overproduced. "Paid media strategies will become increasingly important," she advises.
"Public relations professionals are increasingly becoming copywriters, and they are often responsible for developing feature-length paid integrations, which require journalistic proficiency." According to Amanda, the skills needed to succeed in PR in 2023 include being a Jack and Jill of all trades. "An executive who has a broad range of experience will have more opportunities than one who is specialized in one area," she says.
As she concludes, she looks forward to 2023 being all about client relations and being able to be back in the room after years of virtual meetings.
Christine Faulhaber, Founder & CEO at Faulhaber Communications
As we continue to recover from COVID, Christine believes that experiences and activations will become increasingly relevant. "Real life experiences are going to be even more important to engage brands and attract talent," says Christine. "People need to fee connected more than ever before. PR leaders will need to ideate new and engaging ways to make consumers, influencers and stakeholders feel comfortable and excited again."
2023 will be a year of customization and digital PR, according to her. "Traditional PR as a standalone offering is over," Christine adds. "The consumer experience is integrated and so must be any marketing program. PR needs to be connected to any marketing activity in order to maximize the ROI." In 2023, Christine identifies the greatest PR challenge as doing "more with less" and demonstrating value using non-traditional PR strategies.
Her prediction is that PR professionals will need digital skills, data, and the ability to cross-pollinate in 2023. "Taking an omni channel approach is critical to success. Making sure to activate all the levers will be important," warns Christine. "New comers to the PR field must see themselves bigger and skill up.".
Lisa Pasquin, President at Craft Public Relations
According to Lisa, sustainability will be a key factor in 2023. "Globally, sustainability is rated as an important purchase criteria for 60 percent of consumers. Consumers care about how the brands they choose pay attention to the planet. Into 2023 and beyond, I think the expectations of both the media and influencers we engage and the consumers that they ultimately influence are going to get sharper. I think we're going to need to come up with more unique and creative ways to share product news and spark product experiences that don't leave in their wake piles and piles of waste", she says.
Working authentically with influencers is another major trend Lisa anticipates for 2023."In the face of shrinking newsrooms and a seriously scaled back media environment - "influencers" have filled the gap in so many of our plans. As these individual creators have grown their channels, they've opened up unique opportunities to reach, influence and engage with consumers. But the result, in many cases, has become the commoditization of human beings. As brands move their media dollars away from programs and properties and into individual partners, it's easy to forget that these are just people. Deeply fallible people who experience personal struggles and mental health challenges. And so I think our expectations of those people are going to need to change. I think we're going to need to find greater authenticity and increased flexibility in the way we work with creators. We're going to need to tell less and invite more. To find genuine brand fans and let them use their voices to tell their stories on their own terms."
As a result of today's rapid changes in the world, she believes that curiosity is the most important skill PR professionals need to have. "There is no more critical skill for success in our industry. You need to cultivate a deep passion for learning, exploration and discovery. You need to be a voracious reader, a consumer of culture and a student of EVERYTHING", she concludes.
Is your communications strategy for 2023 in need of a makeover? Take a look at some of our upcoming PR events around the world by clicking here.
---